Method №1 - Main
Add a timer using the input field on the main application window.
To add a timer to interval use a combination of value & unit
1h 10m 5s, 1.5hr, 8 hours, 10, 10min 5sec, 10 minutes, etc.
To add a timer to specific time use colon ':'
20:00, 18:30:11, 06:30 PM, etc.
To add a label to timer, add it after the value
45m Task
If you are using shortcuts, you can enter its name (no parameters).
Task XL
Scenarios
To combine a timers to scenaries use plus '+'
25m Work + 5m Break
To add a repeating timer add 'repeat' at the end
45m repeat 4 times (or shortened form 45m x4)
To loop a scenaries add 'loop' at the end and optional numbers of repeating
25m Work + 5m Break loop 4 times
You can combine these methods
15m Work x3 + 5m Break loop 4 times
Scheduler
You can schedule daily recurring tasks. They will be automatically added to the timer list on the selected weekdays and time.
'Timer or Scenario' field is filled in the same way as on the main window.
In 'Add at' field you can select time at which the countdown starts. Accordingly, this value must be less than the expiration time of the timer.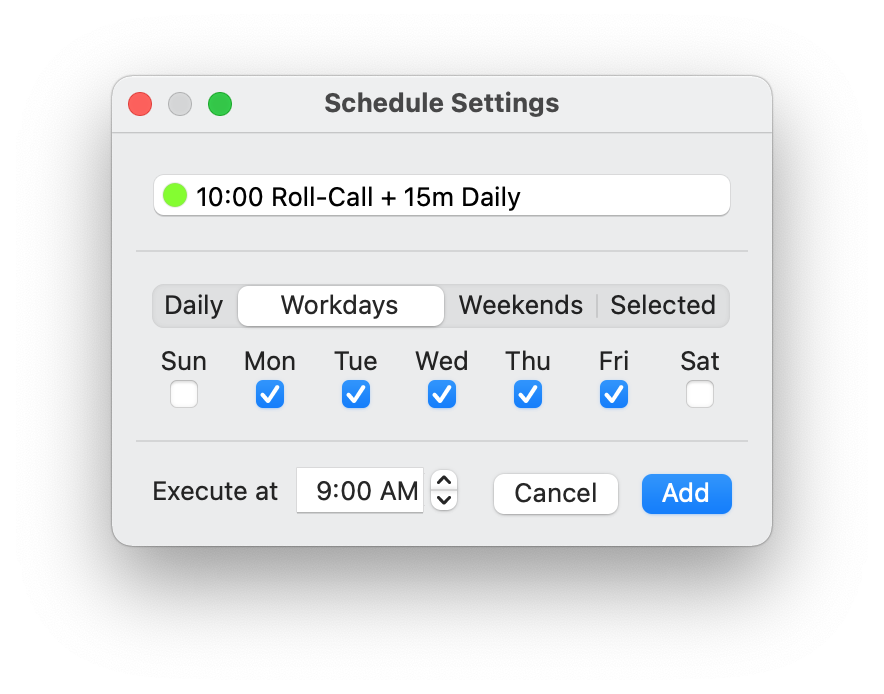 Note! If the time for adding has expired but the scheduled timer has not yet expired, then the timer will still be added, otherwise it will be ignored.